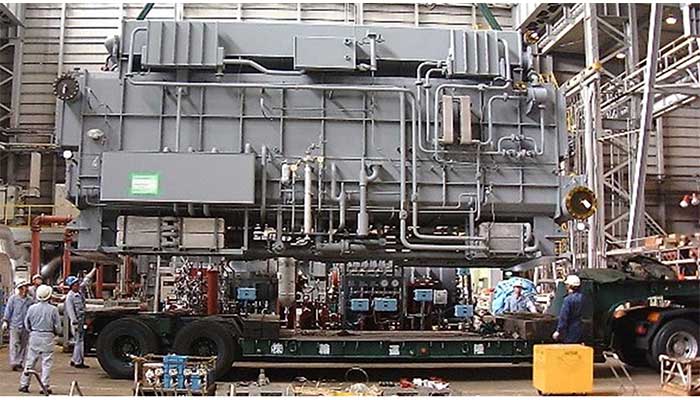 Ebara Corporation founded in Japan in 1912; It started its activities with the production of pumps first, and later added cooling equipment, turbo compressors and high-tech products to its production range. Ebara, which has been benefiting the whole world for more than a century, has continued to grow and has come to this day. Since producing the first centrifugal chillers in Asia in 1929, it has been at the forefront of innovation in the production technology of refrigeration and air conditioning products.
Ebara produced the first absorption chiller in Asia in 1962 and pioneered the development of absorption chiller technology.
It has now become a world-leading high-tech company in three main areas of fluid mechanics, environmental engineering and precision electronics. It is among the top 500 machine manufacturer companies in the world. Ebara is at the forefront of the world as an active advocate and practitioner of the "zero emission theory" of the United Nations University (Tokyo).
Ebara, which manufactures heating and cooling equipment, is a global brand in terms of global product technology, production, quality assurance, service and management. By integrating R&D with more than 1000 technical patents into its production experience, Ebara also manufactures air conditioning equipment such as Absorption, Centrifuge, Screw Chillers, Open and Closed Cooling Towers, Large Centrifugal Fans, Fancoils, and AHU. Ebara is constantly developing new products in the HVAC industry, while also leading the industry in providing first-class competence in turnkey mechanical and electrical equipment assembly engineering.
Ebara produces more than 4,000 series in a total area of ​​200,000 square meters in HVAC. While Ebara continues to expand its absorption chiller production, it is making strides in the field of industrial energy saving by taking advantage of the comprehensive benefits of complete cooling heating products and system integration capabilities.
Together with the largest absorption heat pump in the world, it has developed a double effect absorption chiller, which is twice as efficient as a single effect. Innovative products such as heat pumps and low temperature hot water absorption chiller, power plants for industrial energy saving and heat recovery, chemical industry, petrochemical industry, refineries, food, pharmaceutical, textile, automotive, thermoelectric etc. It has created a large market in its sectors. Ebara has obtained international certifications such as AHRI, CTI and ASME in the production of heating and cooling equipment and is recognized as a high-tech enterprise in organizing the preparation of many industrial standards.
Sump Pompa Teknoloji ve Pazarlama San.Tic. A.S. Ebara Corporation since 1997, has taken over the distributorship in Turkey, it continues with this task successfully growing and developing staff.